Activate Jar2Exe to generate exe files as products
---
Introduction
The register step is to activate Jar2Exe. After activation, generated exe files of this Jar2Exe can be redistributed to your customers as a product. Without registration, all features will not expire for developing use.
You can activate Jar2Exe online with your username and password on this website, or offline with a register user name and register key.
---
Usage
Input your username and password, then click "Activate" to activate Jar2Exe online, or input the Register User and Register Key, then click "Activate" to activate Jar2Exe offline.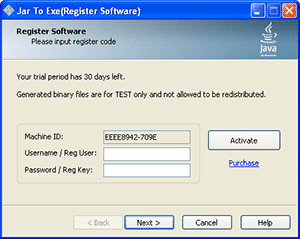 ---
Machine ID
The register key for "Personal License" is associated with this Machine ID. This Machine ID is required when your create your own register key at http://www.jar2exe.com/regkeys/ .
For "Standard License", you can ignore this Machine ID.
---
Username/ Reg User & Password / Reg Key
You can input your "username" and "password" of your account on this website, and "Activate" online.
Or input a "Register User" and "Register Key" and "Activate" offline.
---
Activate
To activate Jar2Exe with your "username + password" or "Register User + Key".
---
Purchase
A hyperlink to the Jar2Exe v2.0 purchase page.
---
See Also